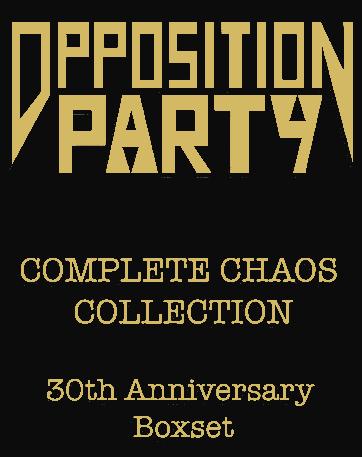 - LATEST NEWS -
UPCOMING SHOWS:
4 MAR 2019 - with COCKNEY REJECTS!
JAN 2019 - 3 DECADES OF CHAOS Malaysian Tour
18 Jan - Johor Bahru
19 Jan - Kuala Lumpur
20 Jan - Penang
<Follow on Instagram for OP giveaways>
The OPPOSITION PARTY 30th ANNIVERSARY COMPLETE CHAOS BOXSET is out now!
Limiited Stock! Get it quickly before it's gone:
www.ebay.com.sg/usr/rockdistro
- MORE UPDATES -
UPCOMING NEW RELEASE FEATURES THE ART OF ED REPKA!!!
ZOMBIFIED has been re-pressed by Pulverised Records!
RUPTURE VS OPPOSITION PARTY comes in both GREY and GREEN MARBLED VINYL too!
Look for the above face-ripping releases from on bandcamp and in selected shops!
Also available from:
www.ebay.com.sg/usr/rockdistro