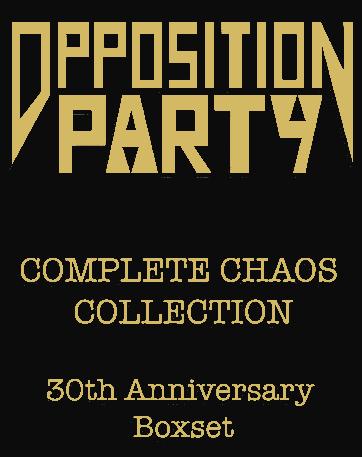 - LATEST NEWS -
NEXT SHOW - 29 JUN 2019 with Sheer Terror!
More "3 Decades of Chaos" shows planned for overseas!
<FOLLOW ON INSTAGRAM FOR OP GIVEAWAYS!>
The OPPOSITION PARTY 30th ANNIVERSARY COMPLETE CHAOS BOXSET is out now!
Limiited Stock! Get it quickly before it's gone:
www.ebay.com.sg/usr/rockdistro
- MORE UPDATES -
IT'S CHAOS / BECAUSE (2003) digital reissue available here!
UPCOMING NEW RELEASE FEATURES THE ART OF ED REPKA!!!
ZOMBIFIED has been re-pressed by Pulverised Records!
RUPTURE VS OPPOSITION PARTY comes in GREY & GREEN MARBLED VINYL too!
Look for the above face-ripping releases from their respective labels, in selected shops and on the net!
Also available from:
www.ebay.com.sg/usr/rockdistro